Curriculum Topic Map for the Whole School
Curriculum Topic Map
Our curriculum consists of the National Curriculum guidance which we have planned and sequenced for an inclusive, high-quality education for all which enables our children to achieve and thrive regardless of background. All our curriculum learning at Torridon Primary is underpinned by our school values. – aspiration, community, diversity, excellence and respect.
Our aim is that all children will reach their academic potential and will leave Torridon with a lasting passion for learning. Our aim is to equip children with the skills they need for an ever changing society to give them the tools for success.
Every child at Torridon is viewed as a unique individual. We celebrate and welcome differences within our school community. The ability to learn is underpinned by the teaching of basic skills, knowledge, concepts and values.
We believe that teaching has the greatest impact when learning is put in context. As such, we take a cross-curricular approach to planning and teaching, where possible. Therefore, our curriculum is topic based and gives lots of opportunities for the children to use mathematical and literacy skills across the curriculum, which deepens their understanding and ability to become effective learners and problem solvers. The literacy learning centres around a high-quality core text, which links to the topic
There are two main threads that run through our topic-based curriculum – rich vocabulary and significant people. Our curriculum endeavors to reflect our community and incorporates British values and spiritual, moral, social and cultural development. As part of this we are beginning on our journey as a 'UNICEF Rights Respecting' school.
We have adopted the CUSP curriculum model (written by Alex Bedford of Unity Schools Partnership) approach for our foundation subjects. This approach is research based to increase fluency and reduce cognitive load. 'Learn more, remember more, do more'. All subjects following the CUSP approach have knowledge organisers and knowledge notes to support the thinking and learning processes. The approach supports our curriculum thread of rich vocabulary, to ensure that children experience and understand subject specific vocabulary and multi-meaning vocabulary.
When using any schemes of learning, we personalise them, and teachers ensure that units are adapted to meet the needs of the children. We use these resources to support planning and resourcing: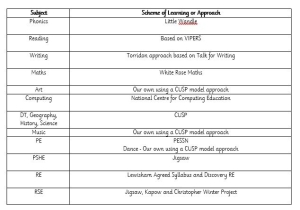 Our team of specialist teachers provide children with high quality learning experienced in art, dance, music and French.  Children also benefit from individual music tuition in piano, violin, guitar, drums and clarinet.
LEARNING TO LEARN SKILLS
As well as teaching the curriculum, we seek to empower all children to have the skills required to be successful learners throughout their lives. We teach, reinforce and develop skills through our core values of aspiration, community, diversity, excellence and respect in subject areas and in assemblies.
Children benefit from a range of additional activities and opportunities including educational workshops, visits and visitors to ensure learning is embedded in real life and shared experiences, contributing well to children being enthusiastic about coming to school.
EYFS
In the early years, we follow the statutory framework. We also draw on the Development Matters and Birth to 5 documents. Further details can be found in the EYFS booklet.